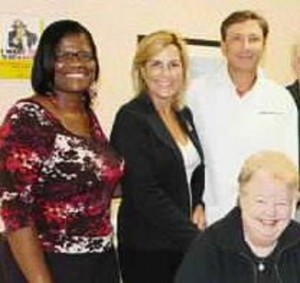 In the early 1990s, a Vero Beach physician, Dr. Gerald Pierone, Jr., was concerned about the disproportionate rate of HIV in people who were below or at poverty level. He treated patients with the disease through his private practice, but knew there were many people who couldn't receive treatment due to the cost.
In 1995, Dr. Pierone founded the AIDS Research & Treatment Center of the Treasure Coast (ARTCTC) and opened a clinic to provide free and sliding scale medical care to people living with HIV infection and AIDS in Indian River, St. Lucie, Martin and Okeechobee counties.
Dennis Hardcastle, who has served on the ARTCTC board since its beginning says, "The clinic has made a big difference to hospitals. Before the clinic opened, those with AIDS went to the hospital as terminally ill."
He explains the clinic helps people understand and get treatment for AIDS, which means more of them are able to live relatively normal lives. "Not only are people healthier, it's made a great, positive financial impact to the hospitals."
Gerald explains that the clinic has grown to two facilities located in Fort Pierce and Vero Beach, serving 400 patients each. Because of ARTCTC's ongoing community outreach for AIDS education and testing, no clinic patients have given birth to HIV babies in the last several years.
"HIV has not gone away," says Gerald. "But there are means to reduce transmission through treatment."
Board chair Terri Ann Palumbo is proud of ARTCTC's collaborative efforts. It works with non-profits, such as In the Image of Christ (ITIOC) and the Vaccine & Gene Therapy Institute (VGTI). ITIOC provides free testing and HIV counseling. VGTI is working to find a vaccine against HIV, and some ARTCTC patients may get involved in cutting edge clinical trials.
"It's a privilege to be involved with ARTCTC because they treat their patients with such dignity and respect in a completely non-judgmental way," says Terri. "I'm impressed by the fact that everyone gets treated regardless of resources. AIDS can hit anybody. People shouldn't get lackadaisical about prevention."
To learn more, call (772) 468-9900.